Library
Welcome to the Ross Ford Library Page!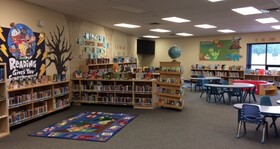 Our library is here to support and encourage literacy by developing and maintaining a diverse collection of picture books, junior fiction, non-fiction and reference materials. These resources support student work and provide leisure reading opportunities. We also have an extensive teacher resource collection to support curriculum and professional development of our staff.
For more detailed information on library procedures and policies please refer to the Library Handbook.
To access the library catalogue, search for books and place holds please click on the Book Catalogue button.
Meet our Mascot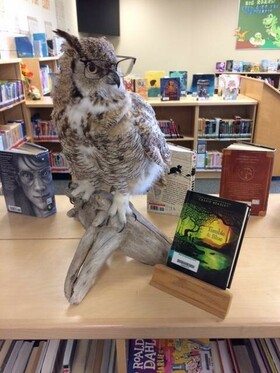 This is Oliver. He's a Great Horned Owl and has been the Ross Ford library mascot for nearly thirty years!
Oliver is a voracious reader and loves to watch kids reading and getting excited about books. He even makes occasional recommendations for books he's particularly enjoyed.
Number one question about Oliver? Is he real? Yes, he's definitely real!
Did you know the Great Horned Owl is the Provincial Bird of Alberta?
Alberta adopted the great horned owl as its official bird in 1977, following a province‑wide children's vote.
Library Book Exchange Schedule