Back to all posts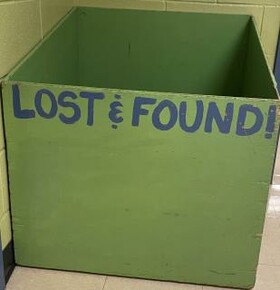 There are Lost & Found bins located in the hallway near the office, and at the boot room doors at the north end of the building. This is most often where clothing items such as mittens and jackets will be put when they have been found. Please check in with our office staff when you come to look through the Lost & Found bins.
Items such as toys, jewelry and other personal items are usually brought to the office where they are kept safe. Please ask our office staff if you are looking for something like that.
It is not recommended that students bring toys and precious items to school. It can be heartbreaking for a child to lose something, and unfortunately, quite difficult to find it again.
Please clearly label your child's clothing and belongings so they can be returned more easily. We do try to return things to the rightful owners, and we encourage students and parents to check through our Lost & Found collections regularly. Watch for reminders on social media and here on our website. We will occasionally post pictures of our collection. Unclaimed items may need to be thrown out, or donated to the Thrift Store.
Another suggestion…
Because we share the playground with Westglen School, items found outside are sometimes taken to the Lost & Found there. If you are unable to find a lost item at our school, you may wish to contact their office staff to make arrangements to look through their bins.