Back to all posts
Posted on
May 5th is our Kindergarten Orientation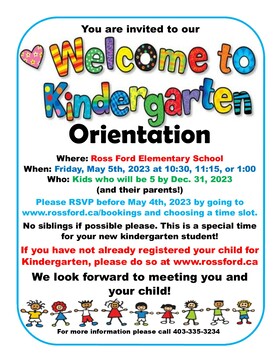 You are invited to our KINDERGARTEN ORIENTATION!
Where: Ross Ford Elementary School
When: Friday, May 5th, 2023 at 10:30, 11:15, or 1:00
Who: Kids who will be 5 by Dec. 31, 2023
(and their parents!)
Please RSVP before May 4th, 2023 by going to www.rossford.ca/bookings and choosing a time slot.
No siblings if possible please. This is a special time for your new kindergarten student!
If you have not already registered your child for Kindergarten, please do so here.
We look forward to meeting you and your child!